Back to news | 16th October 2020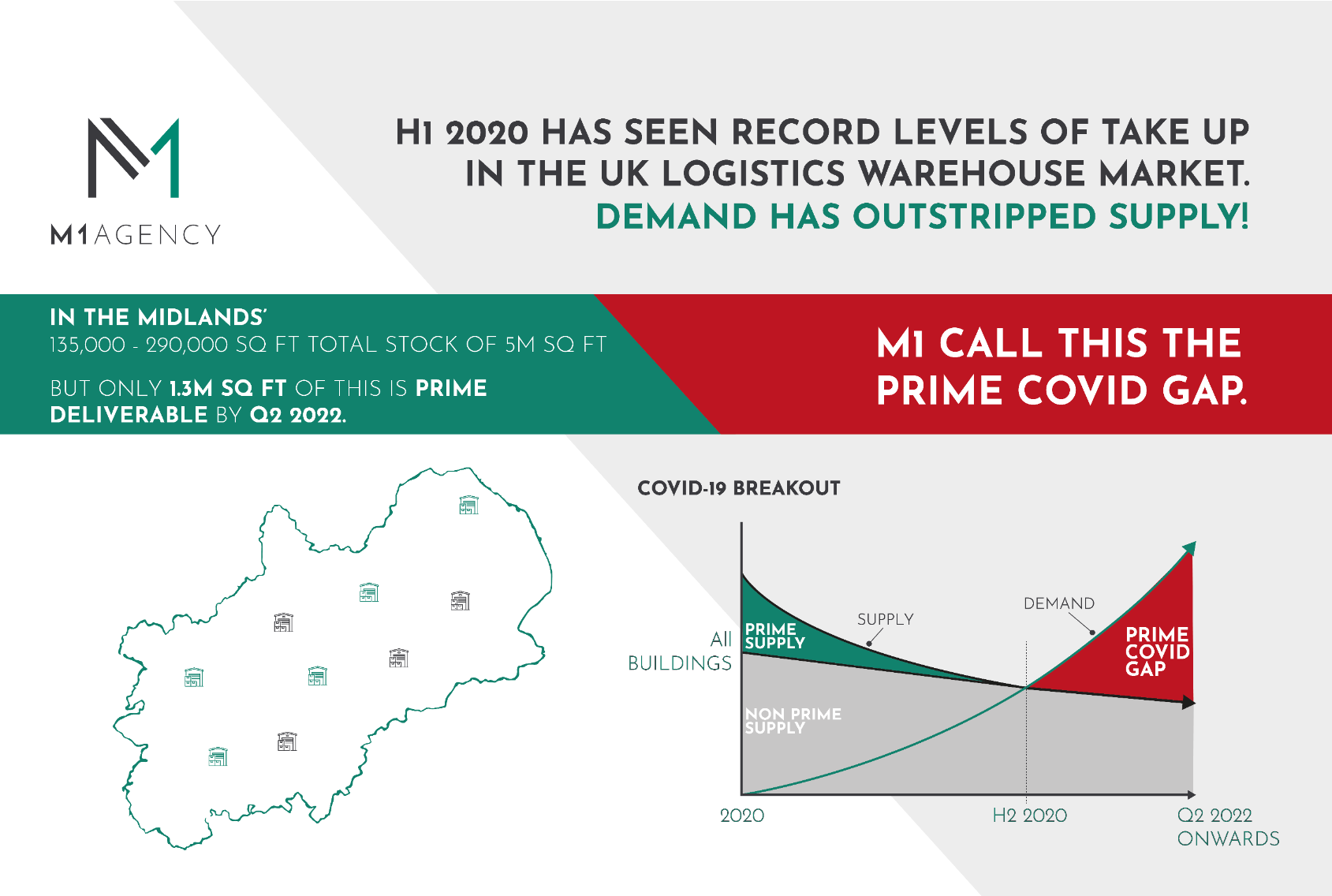 When the high street shut up shop in March as COVID-19 took hold, online stores thrived with the coronavirus crisis fuelling the already escalating structural transformation in retail. The need for larger distribution centres and warehouses exploded almost overnight but, with a national lockdown effectively pressing pause on development programmes across the country, demand for prime developments has quickly outstripped supply. Richard Ludlow, agency partner at M1 Agency, examines the stats behind this latest market phenomenon and the development opportunities that might arise from the 'Prime Covid Gap'.
There is no doubt that COVID-19 has made its presence known in every corner of the commercial property sector since the markets went into lockdown in Spring. We witnessed many developers and funds suddenly forced to put their speculative development programmes on hold in early 2020. But, whilst global economic uncertainty gripped us all, the pandemic was simultaneously accelerating the structural move online, particularly for food and essential products — bringing with it an unprecedented increase in demand in the UK logistics warehouse market. In fact, the H1 2020 UK wide take-up figures were the second highest on record, at just over 19M sq ft, with only H1 2018 being higher.
So, with the markets marching on whilst developments remain at a standstill, it's inevitable that a gap has formed as demand for prime developments has rapidly outstripped supply. Put simply, stock has been taken up but not replaced — leaving us with what we at M1 are referring to as the 'Prime Covid Gap'.
This situation is endemic across the country, but focusing on The Midlands alone — the largest of the UK markets as identified by existing floor space — we can see this hesitation in speculative programmes is already tipping the market's supply and demand balance when it comes to prime developments. But what do the stats show and, crucially, where do the opportunities exist?
The Midlands has a total of approximately 12M sq ft of existing, speculative, or pipeline speculative space deliverable during the next 18 months. Within these categories, the larger 300,000 sq ft plus market is well supplied, with stock totalling some 6M sq ft. Whilst the scale of some of these buildings has the potential to draw occupiers from outside The Midlands, this section of the market is more exposed to competition from the build to suit market.
Having carefully analysed the data, we've found that if those buildings between 135,000 and 290,000 sq ft were graded prime and non-prime, more than half falls into the second category. So, from a total amount of nearly 5M sq ft, we're left with just 1.3M sq ft of prime pipeline that's potentially deliverable between the end of 2021 and the end of Q1 2022.
And, if demand in H2 continues in the same vein as H1 (and all the signs are that it will), it's highly likely that the 1.5M sq ft of prime stock in this size range — much of which is already under offer or has serious interest — will have been let. This means that by the end of 2020, we'll be looking at a scenario where there will be very few, if any, prime buildings in this size range available in the market.
Although land is coming through the system, there is very little that can deliver buildings in the next 18 months. In fact, there are just a handful of developments in prime locations within this size range that will be complete within this time frame — and potentially ready to plug the Prime Covid Gap. Prologis' Ryton scheme is proposing a 148,000 sq ft building. IM Properties' prime Peddimore scheme also includes planning for a 152,000 sq ft and a 262,000 sq ft unit. In addition, Tritax Symmetry's Rugby South scheme includes proposals, with the developer having recently received planning for a 140,000 sq ft and a 180,000 sq ft building, and Firethorn Trust has just got consent for a 105,000 sq ft and a 250,000 sq ft scheme at Northampton. If these fortunate developers can remain on track and start to build in the identified size range they will be sure to reap the potential rewards of the rental growth and lower incentives that could come about as a result of the lack of new prime product being delivered to the market. But they will be in a minority.
Perhaps First Panattoni has had a sneak preview of our data as the developer has recently taken the 'bull by the horns' and pushed the button on a 250,000 sq ft and a 430,000 sq ft on its Northampton scheme,  with practical completion scheduled for the second quarter of 2021.
We believe this unprecedented take-up will inevitably force a push in demand for alternative non-prime locations and buildings. We've recently seen, for example, renewed activity in the North West Midlands where non-prime stock is available in the big box market, with some short-term deals in Stoke and Stafford — all of which are likely to come back to the market within the next three years. There are also a number of buildings available in Cannock that may benefit from this tightening of the wider market. Indeed, we understand that several of the buildings currently have serious interest.
Whilst The Midlands is undoubtedly the UK's main market for big sheds, the situation in this area — whilst pronounced — serves as a snapshot of the picture for the whole country. But what does this mean for developers and funds who are assessing what steps to take next as the sector navigates its way through the coronavirus crisis?
As online continues to boom and the need for quality big box developments in accessible areas shows no sign of abating, there is arguably a need to bring the industrial and logistics development pipeline forward by 18 months in order to satisfy demand for prime buildings in prime locations. Interested developers should be looking at their speculative development programmes and seeking the support of specialist property experts who can offer tailored, strategic advice on site acquisition, development funding, leasing, and investment — ensuring that prime developments are pushed through and the Prime Covid Gap is filled effectively.
For more detailed analysis of the Prime Covid Gap or for information on agency disposals, occupier services, development funding or investment advisory, call Richard Ludlow (M: 07836 766167) or Myles Wilcox-Smith (M: 07880 788345).